There are some wonderful events and parties happening for New Year's Eve in Tampa . 
Here are a few ideas for things to do.
Bring in the New Year with the annual New Year's Even Celebration First Night St. Petersburg and enjoy a fireworks frenzy! This bay area celebration features entertainment, fantastic fireworks, food, and games at 35 venues in Midtown and Downtown from 5:00 p.m. until midnight. The alcohol-free event for children and adults is FREE for those age 5 and under. Adult admission is $12 and $6 for ages 6 to 12. >Tickets may be purchased online
Make a splash on the social scene this New Year's Eve at The Florida Aquarium's Aqua-Eve where you will see and be seen as you enjoy live entertainment, great food, complimentary beer, wine and food, underwater wonders, the best fireworks display in Tampa and a champagne toast at midnight. Tickets are $80 general admission before December 5; $90 general admission before December 19; and, $100 after December 19. Call 813-273-4000 for further information.
Elegant New Year's Eve Celebration to Benefit Gasparilla International Film Festival in Hyde Park Village…
THE ROOFTOP EVE!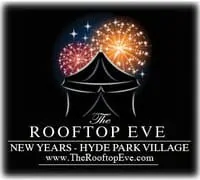 Souvenir tickets will be delivered for this lavish but affordable evening atop the world in the heart of Hyde Park Village overlooking downtown Tampa and the midnight fireworks. Photo and video opportunities abound as you stroll the red carpet from the complimentary valet to the reception area concluding at an attended express elevator.
The rooftop welcomes you…
Check and secure your coats as you prime yourself to enter our custom designed ballroom. Rest assured, fresh as it may be, stargazing through the translucent roof will not be the only amazement.
And when you do go out to celebrate in downtown Tampa, park the car and take the services provided by HART!  Both the TECO Line Streetcar and the Intown Trolley will operate until 2:00 a.m. on New Years Eve.  Get details by clicking here.
Did you know We are #2 in the Nation for foreclosures?
Search homes for sale www.TampaBayDwellings.com