Do you really need a Realtor to represent you when buying a new-construction home in Tampa?
This year has been the year of new construction in Tampa. For me personally, I've had four brand new construction homes that went under contract within the first four months of 2015. The trend is strong for many reasons. Home-buyers gain greater energy efficiency from a newly built home, along with lower insurance costs and, often, a belief that they're getting better quality.
Many home buyers don't realize that the builder is not working for them. In fact, once you hear some of the things I've heard builders say to my clients, you may be shocked. For instance, a builder said, "If you're looking for weekly construction status reports and a quality control process, then we're not the right home builder for you." This was months after my client had given a non-refundable deposit of over $150,000 to the builder.
Search All New Construction Homes for Sale in Tampa Bay
More on outrageous builder statements later. Meanwhile, some important things to know about buying new construction:

1. The builder will pay the Realtor's commission, and it won't increase the price you pay for the home. Why? The commission is taken out of their marketing budget and – if they don't pay a buyer's agent – that money is not taken off the price of the home. Don't believe me? Ask the builder. They will tell you, "You won't get a better deal by not using a Realtor."

2. You may never know all the homes the builder has in inventory that have not been released to the public. In fact, out of the four homes I have under contract this year, only one was "on the market" and being advertised for sale in Tampa. That means that my other three homebuyers had an inside track on homes that other buyers had no idea existed. Those homebuyers are getting exactly what they want – in part because they had less competition. An aggressive agent who brings builders business will know how to negotiate these properties before they hit the market.

3. You'll need a Realtor who knows the new-construction home market and has a relationship with builders to guide you in the right direction. Why? Because builders don't all work the same. For instance, do you know what to expect during the home-building process? Knowing which builders will keep you informed and which ones won't can be essential in determining how and when you are going to communicate with the project manager. If you don't live in Tampa (and many homebuyers currently live out of the area), then having a local advocate and watchdog can be valuable.
In a discussion thread on Zillow.com, here are some ways other Realtors answered the question posed in my first paragraph, above.
"A buyer's agent can inform the client of issues in construction and knows what questions to ask – you don't always get what you see."
"The sales person who works for the builder has the builder's best interest in mind, not yours." "If you want to see how much money you're likely to save buying a similar resale to the new construction product, work with a Realtor."

"An agent has knowledge of and can leverage contracts, real estate law and the real estate community when things go awry with the builder – which they can and often do."
Builders are in the business of making money. Even so, some of my clients have been on the receiving end of some mind-boggling communication.
One builder told my client a home inspection was unnecessary. Here are some of the photos of the home that "didn't need an inspection." You'll see sloppy drywall work, unfinished trim and stucco remnants on the patio.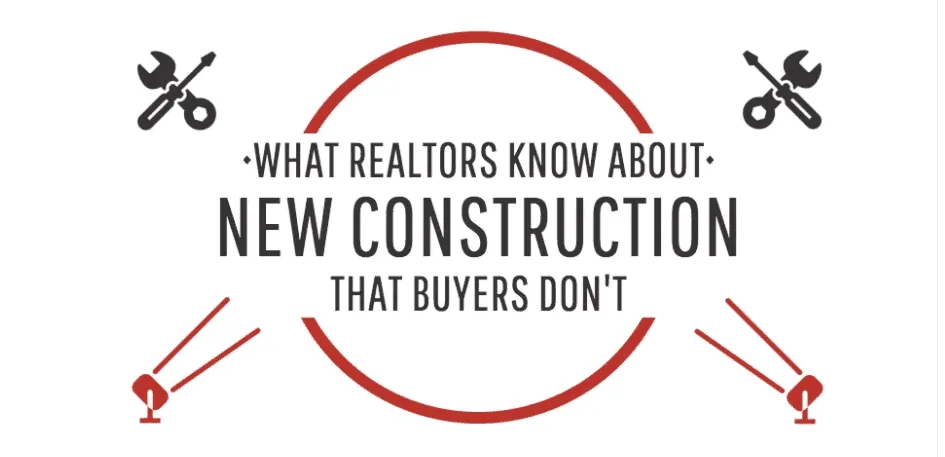 Ultimately the builder fixed everything, but had my client not had a home inspection, some of these items would have gone undetected.
Knowing which home inspectors conduct home inspections for new construction is also where a savvy new construction Realtor comes into play. This particular home inspector knows building codes, which is necessary for a good new construction inspection. Why? Because, at times, the city inspectors don't look for or inspect certain things. They issue CO's (certificate of occupancy) required for closings, without even having the power turned on!
One of my clients preferred new construction and made that clear from the start. While perfectly capable of locating a home to buy without my help, the client said, "I have been told that having a Realtor is important even when buying a new home from a builder, as you bring years of knowledge and an ability to negotiate options and extras out of the builders. In addition, I was told that if we don't use a Realtor, the builder gets to keep the fees that would normally be paid to you … so why not have an expert alongside?! "
I couldn't have said it better myself! So if you're in the market for a new-construction home anywhere in the Tampa Bay area, please contact me here