How the Homepath program works: 
Fannie Mae's new HomePath REO Mortgage Loan Update! Don't wait Buyer Incentives now available through the deadline  October 31, 2011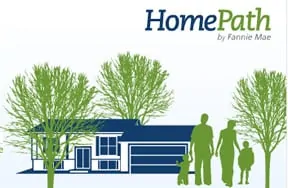 Fannie Mae, the agency sponsored by the U.S. government to help make housing more affordable to all Americans, now offers HomePath, a special new home loan to finance the sale of its current real estate owned [REO], (Bank Owned/Foreclosed) homes across the country.
Here are the key benefits of a HomePath Mortgage Loan:
_ Only 3% down required on a primary residence property
_ No mortgage insurance required
_ No property appraisal required
_ Only 10% down on 1-2 unit investment properties
_ Get up to 6% in seller concessions on primary residence properties
What is the First Look Program?
In Florida, the First Look period is typically the first 15 days a property is listed on HomePath.com, Properties within the First Look period include a countdown clock on the property details page, which displays the number of days remaining for negotiation with eligible purchasers.  This gives a homeowner who is purchasing a property as a primary residence the "First Opportunity" to purchase a Fannie Mae house.
Investor offers can only be  submitted after the 15 day expiration of the First Look period.
For a list of qualified Homepath foreclosed homes for sale in the Tampa Bay area, send an email to Rae Anna Conforti, Realtor Prudential Tropical Realty