A friend, author and colleague of mine Dan Auito,  just released a new Real Estate Investing Book called 
"Be A Real Estate Heavyweight."

This is a real estate investing tool and resource. Learn how to invest in foreclosures and bank-owned REOs
There are many wanna be real estate investors out there and in today's Real Estate Market it's no wonder why everyone wants to get in on the foreclosure boom!  We may never see another market crash, especially here in Tampa Bay, in our lifetime. 
Why is Be A Real Estate Heavyweight the BEST Real Estate Investing Book?
This Real Estate Investment book boasts 95 authors that are sharing actual experience that is working in the field TODAY!   This is post bubble real estate investing, these are the NEW methods being used NOW.
Click Here for the table of contents!
A brief Example:
Author                                           Article
Jarom Adair ……………………The 7 Great Lies of Real Estate Investing
Peter Vekselman ……………Avoiding Real Estate Mistakes & Pitfalls 
Preston Ely …………………….. 7 Steps to Real Estate Riches 
Tyler Hicks ………………………How to Get Rich in Real Estate on Zero Cash 100% Financing
 This manual gives investors a more comprehensive approach to intelligence gathering. Capitalize on the collective significance of the available information aggregated from some of our brightest real estate investors in their fields today.
In this real estate investing book, he literally maps out
the only systems that are working in
today's real estate economy.
…And what's really cool is the way
he explains it and makes it all so EASY
to understand.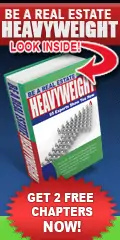 There's 2 really good chapters
of what is working in real estate today
 download free
chapters.
Whether you are looking to purchase foreclosures, distressed homes, vacation property or a home for you and your family, this guide will give you the knowledge you need.
I'm sure you'll like this and benefit
from the content …so check it out!