There are many Real Estate Broker's to work for in the Tampa Bay area. When I decided to join Prudential Tropical Realty back in 2004, I interviewed with all the major firms and decided that Prudential offered their agents the most tools, training and support to grow my business. 

Here we are in 2010, when many other companies have gone out of business and agents have moved on to other careers. Prudential is holding steady and growing with over 500 agents and 15 offices in the Tampa Bay Area.

813 784 7744  Rae Anna Conforti, PA.  Prudential Tropical Realty
RISMEDIA, April 5, 2010—In simpler times, the mantra for what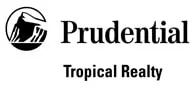 really matters in residential real estate was "location, location,  location." It was a fundamental concept, summarizing and emphasizing the longtime No. 1 rule in real     estate. In today's tough times, however, many savvy brokerage owners have signed on to a new mantra: "Relationship, relationship, relationship," underscoring the connectivity between the brokerage and its team of real estate services.
Prudential Tropical Realty co-owners Dewey Mitchell and Allen Crumbley appreciate the value of shared business philosophies—and strong branding. "Looking at Prudential and Wells Fargo on any level, you have two companies that are best-in-class," Mitchell says. "And this extends to the joint venture level. Shared expectations and a common bond foster a successful partnership and enable our sales executives to deliver a higher level of service to their clients in a real estate environment that can sometimes be challenging."
According to Crumbley, in 2010, Prudential Tropical consistently ranked in the top two real estate companies in the Tampa Bay area, and the joint venture Capstone Home Mortgage will continue to emphasize to agents how they can benefit from working with the in-house mortgage team. He regards "showing the value" as an ongoing process.
"Our sales executives are constantly reminded by our managers, as well as through visuals displayed throughout our offices, about the benefits of utilizing our on-site mortgage company. We encourage sales executives to position their home mortgage consultant as a member of their team when working with clients. It's the same with any relationship—you have to keep working at it for it to be successful."
If you are looking to buy or sell, consider 5 things:

Interview several agents with different companies. 

Ask how they are different from the competition and what they offer you as a customer.

Find out what their online presence is. Where will they advertise your home?

Are they involved in Social Media Marketing?

What are their duties as a buyer's agent? or listing agent.
See Also: