Thinking of investing in real estate in Tampa Bay?  I wanted to share with you the Rental Property Investor report created by All Property Management, which ranked the Tampa Real Estate Market as the 2nd best city in the nation to invest in rental property.
The 2014 first quarter report has just been released and Tampa received a Rental Property Score of 94% based on the steady job growth rate of 3.40%, increasing rents at 4.01%, a housing appreciation rate of 7.30%, and a strong rate of return on rental investment at 10.13%.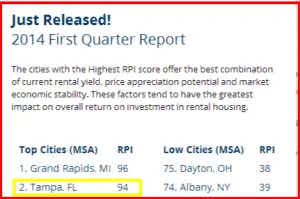 What is an RPI Score? (Rental Property Investment Score)
The RPI score is a measure of a market's attractiveness for rental real estate investment. It was developed by All Property Management to offer property owners a convenient way to assess the attractiveness of real estate markets throughout the U.S. from the perspective of the owner of a rental property, which can be very different from that of the owner-occupied homeowner.
Please find the report by visiting
All Property Management
; all the data used to compile this report was based on national data and statistics.