Tampa Bay Real Estate Market Topping the Charts
As legions of Americans prepare to move households this summer, guess which metro area is the number one hot spot? Tampa! We already have a shortage of inventory and the most recent news may cause an even greater lack of supply.
In a recent Realtor.com report, Tampa is the NUMBER 1 City Americans are moving to!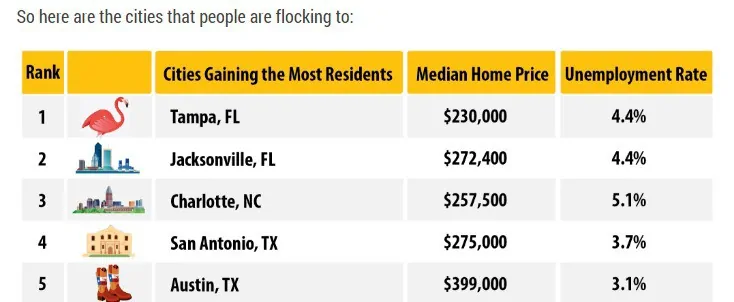 Like those cities that come right behind it (Jacksonville, Charlotte, San Antonio and Austin) Tampa is experiencing a strong job market. Adding to its appeal, houses are considered affordable here.
Tampa bests Raleigh, North Carolina, even though that city is considered to possess one of the best job markets in the country in terms of opportunities and on-the-job satisfaction. Tampa also outstrips trendy Portland, Oregon, and even Las Vegas.
Overall on this Top 10 list, Florida is the most desirable state, with America's movement providing a net plus in population to Orlando as well as Jacksonville and Tampa. An inventory balloon is happening in southern Florida, according to Realtor.com. But this blip isn't affecting the Tampa region.
Think of the huge, old, industrial cities of the Midwest, and you will be able to name those that are losing population in droves: Detroit, Chicago, Cleveland and other cities of that ilk. In California, sky-high home prices are pushing people out of San Jose and San Francisco. New York City tops the sinking-ship list.
Newcomers flooding the Tampa-St. Petersburg-Clearwater area seeking homes will provide competition to buyers who already live here.
Other factors upping the ante
Competition is coming from other demographic quarters as well.
High rents over the last few years have made it more appealing to own a home. Those who previously owned a house but have been stuck renting are longing for a home to call their own again. Over the last few years of the financial crisis, they've had time to stabilize their personal money situations. Many have successfully saved money for a nice down payment. 

Generational factors come into play as well. Many baby boomers are looking to downsize, and this often involves sale of a big house with a subsequent purchase of smaller digs. At the other end of the scale, millennials are ready to close on the very first homes of their own.
The short-sale story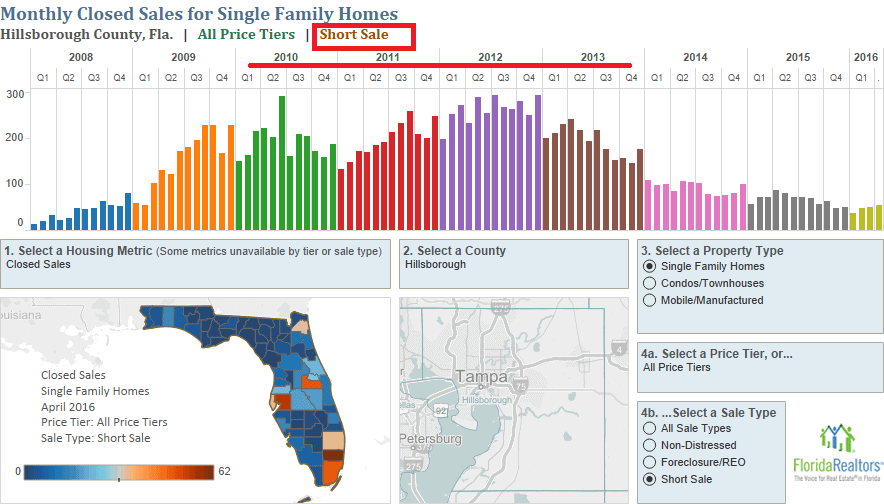 Even folks who lost a home during the financial crisis may be poised to enter the market as homebuyers again. Here's why:
A person who lost a home via a short sale (and deed in lieu of foreclosure) is required to wait four years before applying for a conventional loan once again. They are also required to have at least a 5 percent down payment, and they must have re-established their credit with no late payments during the previous 12 months. Many people are meeting these criteria and will now be spending their Sunday afternoons scoping out Realtor open houses.
The waiting period is seven years after an outright foreclosure, but even some of the hardest-hit people are ready to re-enter the housing market in relative financial health. Consider that the Great Recession dates back several years.
In Hillsborough County, short sales began to rise markedly in 2008. Short sales peaked from 2010 to 2012, with a decline finally registering in 2013. Thankfully, this painful period in our economic history is coming to an end, and people are finally climbing out of the pit – and across the thresholds of their new homes.
Buying vs. renting
if you are keeping up with statistics, home sales are up. April's Hillsborough County single-family home sales were up almost 5 percent over April of last year. More than 1,700 homes changed hands, with the average price at $259,000, up 7 percent over the previous year. Homes are selling more quickly as well, spending 30 days on the market compared with last year's 41 days.
Still wondering if buying is the right choice versus renting? You can read my thoughts on this subject in my previous blog post. It's 40 to 60 percent cheaper to buy versus rent in Tampa.
As always, if you are thinking of putting your home on the market, or if you are looking for your dream home, please get in touch with me!
Want more statistics? See how low our inventory is in your price range by downloading Tampa's most recent housing statistics here.