Living in Tampa's Channel District just got a little cheaper
Tampa Bay Business Journal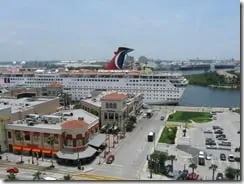 Towers of Channelside Photo Album
The Towers of Channelside is becoming more affordable, bad news for sellers.
Towers of Channelside, downtown's most visible representation of a housing market that was, is now offering units at just 58 cents on the dollar, including what could be the first units to sell for less than $200,000 for one- and two-bedrooms, according to Realtor, Rae Anna Conforti of Prudential Tropical Realty, who writes the Tampa Bay Real Estate Insider blog. That's representing $141 a square foot compared with the original $242 a square foot listing price.
When Towers was announced in 2004, the cheapest units were $275,000 with penthouses listed for $1.5 million. Now a penthouse runs $770,000, a 49 percent drop.
Resales, however, have been an issue at Towers, Catanese said. These new prices could make a dent in resales, which are range between $136 and $385 per square foot. A short sale is listed at Towers at $194 a square foot.
Nearly half the 260 units have sold since the towers opened in 2007, and none for less than $219,000. There have been five sales since last summer, the most expensive closing Nov. 2 for $490,000 and the cheapest a week later at $251,000.
See also: Towers of Channelside –Bank Released Pricing
To schedule a tour of condos for sale, pricing and financing options please contact Rae Anna Conforti 813 784 7744 or Email