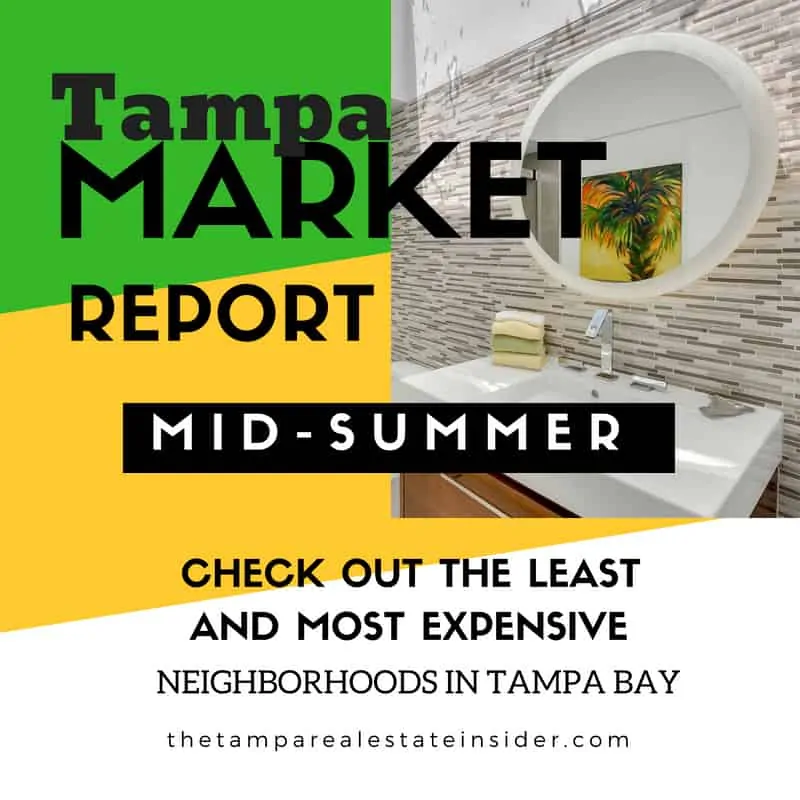 New Numbers Are Out, and You Won't Believe the Story They Tell! 
2018 Mid-Year Tampa Bay Housing Market Report
If you're like me over the last decade you've kept your eye on the sometimes unpredictable patterns of home prices. As a Realtor in Tampa, I've always been keenly aware that a home is more than the sum of its square footage and asking price. One's home can be a dream, a refuge, a castle.
Whether you're buying your first home or relocating, a home is a lifestyle choice. It's not only a place of sanctuary but can also be an expression of your creativity.
At the same time, putting the pieces together and trying to make sense of the puzzle can be fascinating! Come take a ride with me as we look at what's happening to home prices in highly micro-targeted neighborhoods of greater Tampa and greater St. Petersburg. (Figures are from the first quarter of this year.)
First: A Pop Quiz
Quick – which county has the highest average sale price? Did you guess Pinellas? Bingo! The average sale price in Pinellas is $327,562 compared with Tampa's $297,053. The first quarter also produced the highest price ever paid for a Vinoy Place condo in downtown St. Petersburg: $4 million for a penthouse on the entire top floor of a tower there.
The Toniest Neighborhoods in Two Counties – First, Pinellas
Pinellas County puts its across-the-bay neighbor to shame in the arena of million-dollar-home bragging rights. Hillsborough County hasn't yet produced a city or census-designated place (CDP) where the average sales price has cracked $1 million. Pinellas has three such areas: a city Belleair Beach and two towns (Indian Shores and Redington Beach). Their average sales prices are, respectively, $1.3 million, $2.8 million and $1.3 million.
For a high-price-point CDP, check out Tierra Verde at almost $814,000. The town of Belleair at $821,000 and the town of North Redington Beach at $890,000 round out the list of the Top Six most pricey neighborhoods in Pinellas.
You might need to be prepared to offer cash if you want that million-dollar home, because you could be competing with some deep pockets. Almost half the Belleair Beach homes closed for cash, as did more than a third in Tierra Verde. All of the Indian Shores transactions fell into that category (although you might not want to read much into that, as there were only two sales there for the quarter).  
Pinellas also offers some housing at the lower end of the scale. You can still be near the beachy amenities but snag a domicile for close to $400,000 if you choose to locate in the town Redington Shores, where prices showed a decline this year's first quarter over last. Other places where the average sale price is less than $200,000 are four CDPs – Lealman, West Lealman, Ridgecrest and South Highpoint – and the city of Pinellas Park
The Toniest Neighborhoods in Two Counties – Now, Hillsborough
Tampa has only one neighborhood that is ALMOST there in terms of the million-dollar average sale price, judging from the first quarter sales report. Tampa ZIP code 33606, which encompasses portions of downtown Tampa and South Tampa as well as Hyde Park and Davis Islands comes in at $998,000. The neighboring ZIP code of 33602 also stretches across a portion of downtown and Davis Islands and Harbour Island, but this area also includes the more modestly priced Tampa Heights . Average sale price here is $477,000.
Rounding out the Tampa-area Top Five most pricey neighborhoods are, in descending order: 33629 (Palma Ceia, and also think of the intersection of Manhattan Avenue and Henderson Boulevard, at $761,000),  33609 (the always-expensive Beach Park area, at $657,000), and 33611 (right below Beach Park and Palma Ceia and with waterfront on both sides, at $499,000). Once you get past these Top Five, you actually move outside Hillsborough County and into Pasco County (Odessa) to the north.
Where to look for affordable housing but still be near the action? You can look for something in the Temple Terrace ZIP 33617 for around $200,000 or Forest Hills ZIP33612 for around $160,000. If you're curious about trendy Seminole Heights , average sale prices in its three ZIP codes range from $150,000 to about $239,000.
A Brief Overall Look at Hillsborough and Pinellas
Pinellas County and Hillsborough County are separated by the big bridges. They're also separated by the emotional loyalty of residents who swear by their chosen enclaves. Pinellas offers Gulf beaches, but that doesn't stop many affluent people from settling near Tampa's powerhouse downtown, airport or university.
Like me, you might be surprised at which numbers are going up and which are going down.
In Hillsborough County, 7 percent fewer homes changed hands compared with the same quarter the year before – but the average sale price was more than 9 percent higher. In Pinellas County, one of those numbers is even more dramatic. As in Hillsborough, 7 percent fewer sales transactions took place, but the jump in price was more than 14 percent!
As homes were being bought and sold, the number of transactions in Hillsborough County was 25 percent higher than in Pinellas, with approximately 4,000 homes changing hands in Hillsborough compared with about 3,000 in Pinellas. (And if you're a real numbers bug, you'll want to know that, according to the U.S. Census, Hillsborough's population is 1.4 million compared with 970,000 in Pinellas.)
What These Trends Mean to You
Whether Tampa appeals to you, or you're more of a St. Pete person, there are many new listings to choose from! To be exact, Hillsborough County offered more than 6,000 new listings during the first quarter and Pinellas County more than 4,000.
News flash: If you're a potential seller, consider this headline in the Tampa Bay Times:
"Now is a 'great opportunity' to sell as Tampa Bay home prices rise again"
"We've got to see more (homeowners) who are interested in participating in the market coming online because we have buyers but not enough sellers," Charles Richardson, regional vice president of Coldwell Banker, told real estate writer Susan Taylor Martin.
If you're intrigued and in the market to buy or sell, send me a message!