Stunning Rent Rises Might Open Way for Investors as Well as First-Home Buyers
As a Tampa Realtor working with clients who want to relocate from another city, I'm often asked about the pros and cons of buying versus renting. I recently did a blog post diving into the details of fresh studies showing that, in the Tampa real estate market, if you want to win financially in the long run, your best bet is to buy, not rent.
Now new figures have come along that shed more light on the region's rental markets. This data holds value whether you're making a personal life choice – a rent-or-buy calculation on the home front – or a decision as an investor researching whether renting out a home would provide a good financial return.
Rent Café is a nationwide apartment search website, part of Yardi. The organization provides original research, in-depth analysis and insights about real estate from city to city. Yardi's research has turned up a solid five-year trendline showing that Florida, in contrast to nation's hottest real estate markets, is showing rents going up, up, up.
One of the more dramatic examples is St. Petersburg, where the average rent increased by more than 9 percent over the past year. Over five years, St. Pete's rents have spiked upward at a rate sharper than the nation's.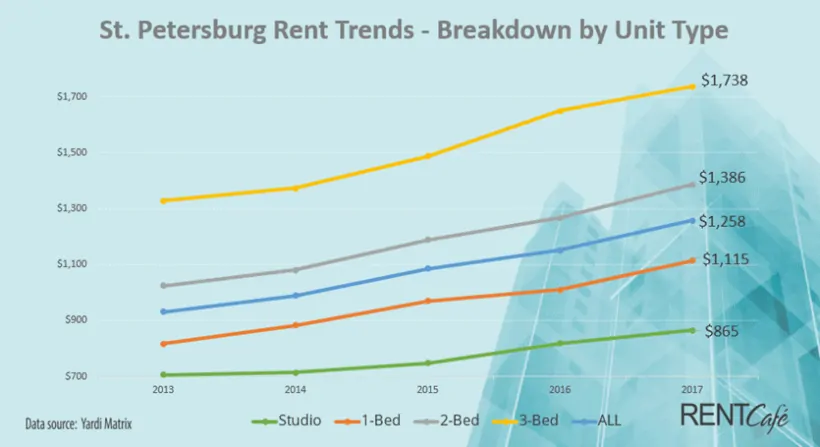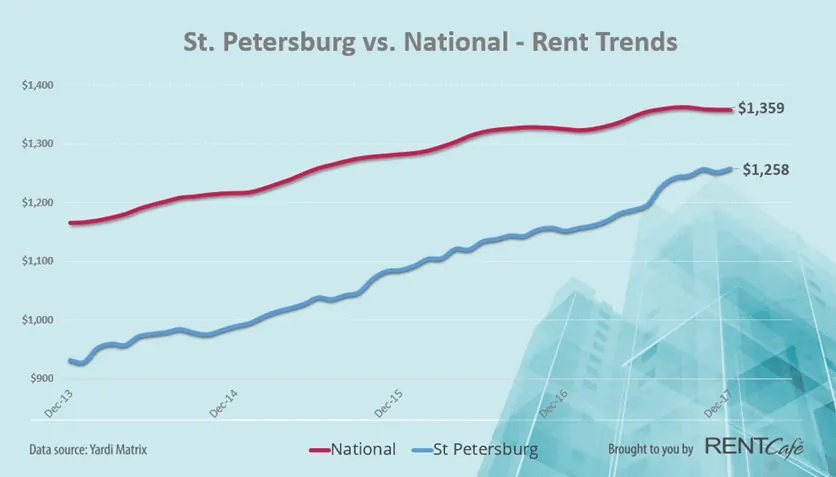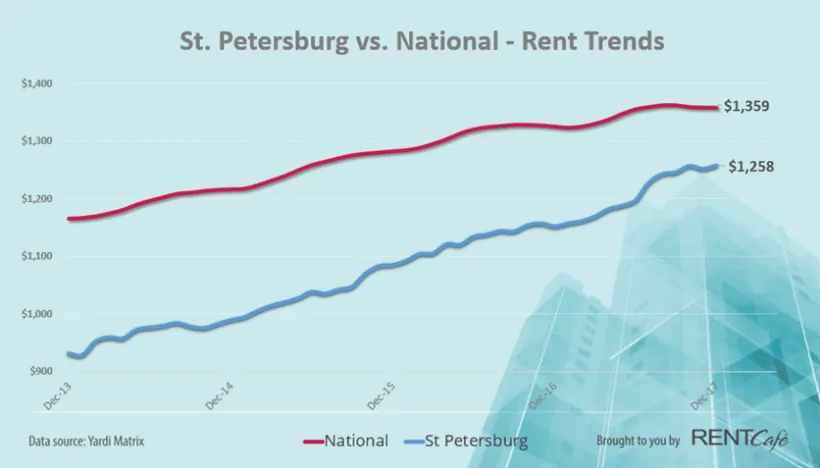 A studio apartment that rented for $700 in 2013 commands a monthly rent of $865 today.

A one-bedroom apartment that cost the renter about $800 in 2013 shot up to a monthly rent of more than $1,100 today.

A landlord charging just a hair over $1,300 for a three-bedroom apartment in 2013 can ask more than $1,700 for the same unit today.
Search homes for sale in St. Pete here
Tampa rent trends show a similar pattern, but without St. Pete's overall sharper spike.
A studio costing around $600 in 2013 now goes for $835.

A one-bedroom apartment that cost the renter about $800 in 2013, still about $100 a month cheaper than in St. Pete, costs the renter about $1,000 today.

A landlord charging somewhat more than $1,300 for a three-bedroom apartment in 2013 (getting about $100 per month less than a landlord in St. Pete) can charge the renter more than $1,600 today.
Search Tampa Homes for Sale here
In none of the hot Florida markets that Yardi studied did rents decrease. Miami's rent growth, at 2.4 percent, is much slower than Tampa's or St. Pete's, but Miami is still, of course, a more expensive city to live in. Average rent in Miami is $1,610, compared with St. Pete's $1,258 and Tampa's $1,217.
If you're interested – and I know you are; everyone's always fascinated by the price of properties in Florida – the most expensive cities for Florida's renters are Fort Lauderdale and Miramar. Orlando falls No. 2 behind St. Pete on the list of cities with the fastest-growing rents in the Sunshine State. (Orlando's growth rate is just over 6 percent.)
In comparison, cities where rents decreased include Charleston, South Carolina; Kansas City, Kansas; Lubbock, Texas; and two New York landmark addresses – Brooklyn and Manhattan. Smaller cities where rents decreased include Bakersfield, California; New Orleans; Tulsa, Oklahoma; and Pittsburgh.
More Reasons to Buy Now
As I reported in my earlier blog post, Tampa home seekers find it 45 percent cheaper to buy than to rent in the long run. Looking at the trends from another perspective – that of the potential investor – there's much to suggest that the time is also ripe for buying an investment property.
So there's yet another great reason to buy a home in the greater Tampa Bay area. If you ever need to move for any reason, it's a good bet you'll be able to capitalize on your house as a rental property in one of the rental markets in the country where rents grow fastest.
I welcome any comments or thoughts on this article. Please contact me here if you are wanting an agent to assist you with real estate in the Tampa Bay area.
See Also: Garden Apartments: Is this Apartment Type Right for You?
If you like this article, please share!