The headlines read: Housing Market Crash, Are You Ready for the Bubble to Burst? But, is it true?
Last year in my Tampa Real Estate Insider blog I argued that, while housing bubbles are predictable from time to time, we are NOT looking at a housing market crash in the Tampa area in the next two years. Instead, realtors and industry experts are saying to be ready for a housing market shift. Here's why…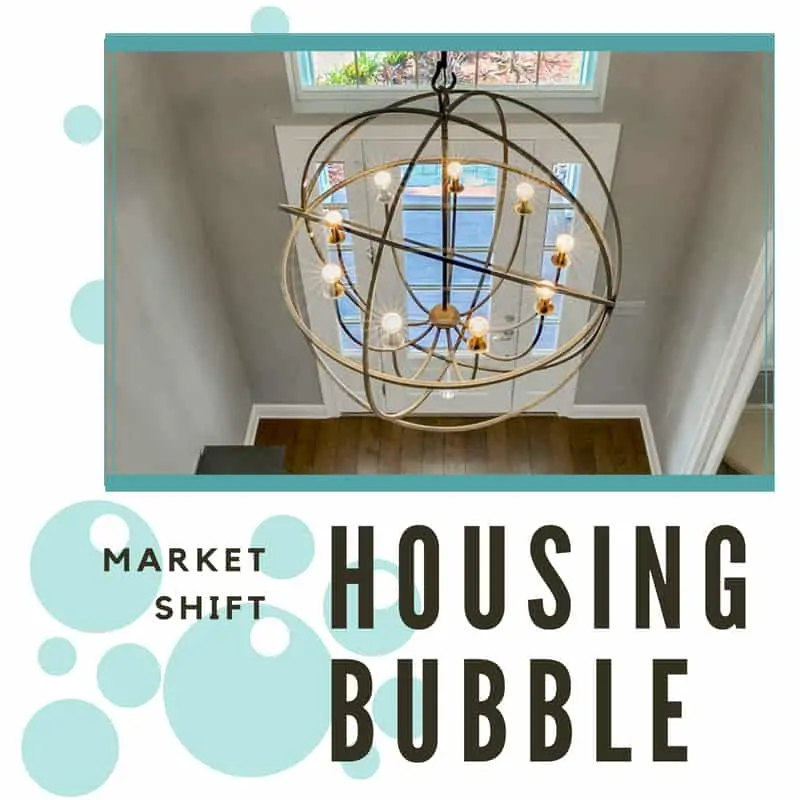 In that blog post, I talked about the lay of the land 10 years ago. New construction was being created at a breakneck pace, even while banks were lending money to millions of unqualified buyers. I also shared current year-over-year home prices, along with average days on the market – stats showing that the Tampa's housing market of today registers slow, predictable (read: safe!) increases. This holds true for St. Pete and Clearwater as well.
Still, people are worrying. Lackluster sales data (showing that existing and new home sales were down in June) prompted Yahoo Finance to remark on plummeting homebuilder confidence and to quote Stifel Chief Economist Lindsey Piegza's observation that a housing market losing momentum says something worrisome about the country's overall economic health.
See What the Data Says
A post in a premier real estate blog, "Housing Market: Another Gigantic Difference Between 2008 and 2018," shows the error in comparing the current housing market to the time leading up to the boom-and-bust of 10 years ago. The evidence can be summed up in a word: inventory.
A decade ago, when loose lending practices fueled demand, an enormous number of homes for sale created a market as puffed up as a tick after a fresh infusion of blood. An inventory of approximately double the normal size created a glut, causing price drops and, eventually, the crash.
Today's scenario is completely different. The current supply of homes for sale is well below the six-month industry norm.
Going Local
That covers the inventory figures nationwide. So what does inventory look like in our region? We currently have only two-and-a-half months of inventory on the market! That's well below what's considered normal.
This data point comes straight from the Greater Tampa Realtors newsletter on "Monthly Market Detail" for June in Hillsborough County. What's more, new listings in June showed a zero percent change over June 2017. (And for those of you who would be disappointed if I didn't share more numbers, both the median sales price ($261K) and the average sales price ($329K) are up a stable 6.5 percent over the previous year, with the number of days on the market also holding steady at just slightly over two months. No red flags and no housing bubble here!
Drawing Accurate Conclusions
The same doom-and-gloom Yahoo Finance article I flagged at the top of this post also makes a big deal of the country's low inventory. The piece quotes the CEO of a real estate appraisal firm referring to "chronically low inventory" that is "choking sales." But as you've seen in my analysis above, low inventory is one of the key pieces of evidence that we're not headed for a crash!
Another crucial figure is that home foreclosures are down – a point noted by Lawrence Yun, a contributor to Forbes.com and the chief economist for the National Association of Realtors. In his piece "No Housing Recession Over Horizon," he writes: "The supply shortage is a much better problem to have, compared to a demand shortage. The current problem also portends no meaningful price decline nor an impending foreclosure crisis. Rather, there is a good possibility for solid home sales growth once the supply issue is steadily addressed."
He concludes: "Though no one can know the future, the likelihood of a nationwide home price collapse is near nil for the foreseeable future."
Whether you're a homeowner, would-be buyer, investor or person who fears they may have recently overpaid for a home – here's my best advice. Make sure not to let yourself get caught up in hysteria about a hypothetical real estate crash. The antidote to fear is cogent analysis of the facts.
Thinking of buying or selling a home? Please send me a message here.
Search all homes for sale here!