Part 2 of 2
(Part 1: Is Tampa Housing Market Headed for a Crash?!)
Market Shift Rumors: Making Sense of Changes in Tampa's Housing Market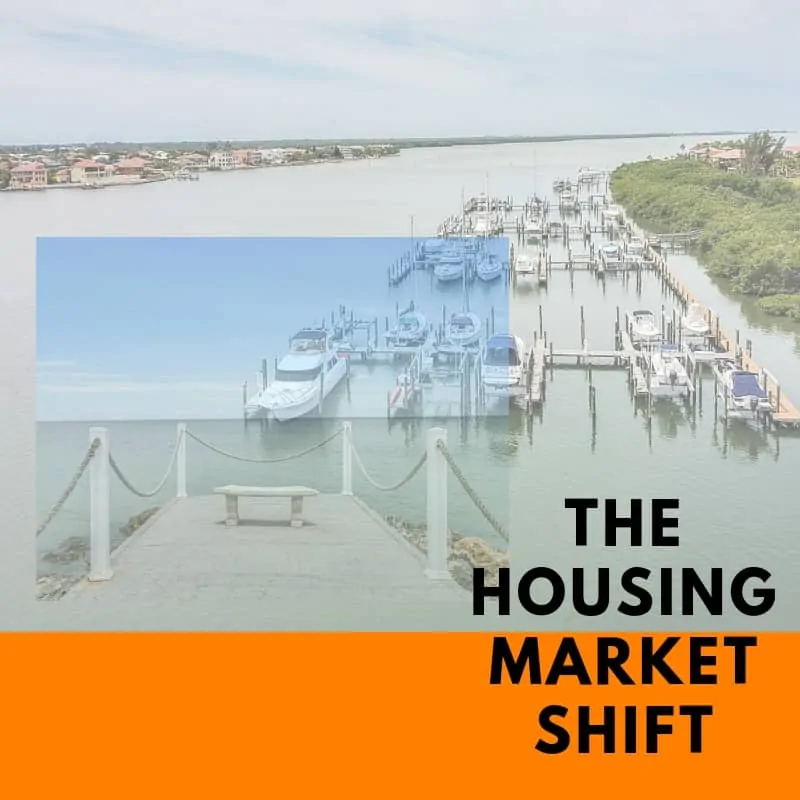 Nothing stays the same, and that's as true in real estate and housing markets as it is in the rest of life. In Part 1 of this series I argued that fears of a housing bubble and impending crash are overblown. At the same time, change is upon us. As I'm considering how to think about an adjustment in the markets, I'm not being coy or ducking the issue when I talk about not a "crash" but a "shift."
The word "shift" is showing up in lots of headlines.
Here is some of the chatter about what's on the horizon:
Zillow's senior economist notes that the housing market's tilt toward favoring sellers has prevailed for at least two years but now "the winds may be starting to shift ever so slightly."

Freddie Mac's chief economist points to – in some markets – a combination of rising home prices plus higher interest rates leading to a curtailing of homebuyer demand.
Plus, more sellers than ever, starting in January of this year, have had to update their listings with a price cut, and by some accounts from 14 to 28 percent of homes for sale this summer may have registered a price drop.
Source 1 and Source 2 can be found here. 
What Realtors Are REALLY Saying Behind the Scenes
All of this is adding up to lots of dialogue among Realtors in Tampa, St. Pete and Clearwater, including in private Facebook groups. Realtors – just like home buyers, builders and investors – are reading the tea leaves and trying to figure out what it all means.
A Realtor who's been around the block a few times posted, "Shift? The market is always shifting. It's those sudden drops you have to watch out for. I've been around at least two major drops and major rises. Everything you think is easy today, won't be. What sells in three days now, will sell in months."
True, ebb and flow is part of life. But my own experience signals that perhaps, at least in our part of Florida, we still may be at the beginning stages of a hot market.
Case in point: I wanted to get one my buyers in to see a Harbour Island condo listed for around $300K that had been on the market for only two days. Two days! And yet the sellers turned us away. Seems that another buyer had already offered full price for the condo, sight unseen.
I also recently listed a home in the Beach Park neighborhood of Tampa that sold for $25K above appraised value.
Putting It All in Perspective
Lawrence Yun, a contributor to Forbes.com and the chief economist for the National Association of Realtors, may have explained it best when he recently wrote: "Let's not get carried away with one month of decline in housing starts, data known to be volatile from one month to the next. Let's instead focus on the long trend and what is needed."
Yun's near-term forecast is an 8 percent rise in housing starts this year, followed by the same in 2019. He predicts a dip of 1 percent in existing home sales this year, but then a 2 percent rise in 2019 "as more inventory shows up from more homebuilding." He sees median home price increases in the 3-to-5 percent range.
Because housing starts, even at a projected 1.3 million units this year, still aren't enough to contribute to a normal inventory, Yun asserts that growth will continue for a few years. "This growth likelihood will bring about more inventory and moderating home prices. Homebuyers are ready to pounce once affordability improves." You can read the full article here: 
True Fact
There may be some truth to market shift rumors, though none of us knows exactly how the future will play out. One former rule-of-thumb is definitely a myth, however. Quoted in the New York Times, Danny Gardner, a senior vice president at Freddie Mac, dismissed the notion that a 20 percent down payment is required for home purchase. Nationwide, more than half of borrowers make down payments of 6 percent or less, according to the National Association of Realtors. So If you're thinking of buying a home, don't be daunted by the down payment dilemma!  
As always, if you're ready to put your home on the market or need help buying a home, give me a shout!  
You can read part 1 here: Is Tampa Housing Market Headed for a Crash?