A High-End Smart House in a Hot South Tampa Location!
If you're looking for a luxe home in a primo Tampa location (close to downtown Tampa, MacDill Air Force Base and Bayshore), the great news is you don't have to wait to have one built! My new listing is a home packed with up-to-the-minute technology, lots of upgrades and a gorgeous pool – and it's only four-years old! As a Realtor I'm always thrilled to be able to offer a home like this with tremendous appeal to families in the midst of a relocation, or even to buyers already settled in town who are looking to scale up!
Fully fenced on an oversized lot (more than 8,000 square feet, an astounding lot size for a home in such a coveted location), the home has four bedrooms, two-and-a-half baths, and two waterfalls and a bubbler in the pool area. All of this in 2,447 sf for $559K!
Coolest Pool Ever!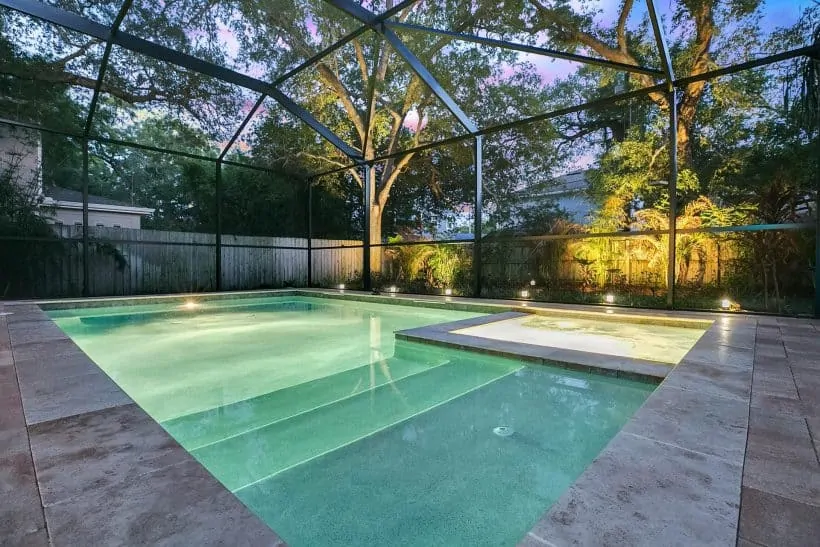 A custom roll-down see-through shutter in the kitchen looks out to the large backyard and pool, and the lucky new owners are likely to spend countless hours here because the pool is a sight to behold. The majestic screen is an architectural delight, interestingly angled to keep out leaves while still letting in plenty of sun to glint off the blue water.
Custom travertine coping, ambient remote controlled lighting, and a paver deck will give guests plenty to exclaim about. You'll be swimming year-round, as the features include a low-maintenance saltwater chlorination system and a large-capacity pool heater.
Put a Pin on the Map
Let's talk about the location. If you were sticking a pin in a map of Tampa hoping for proximity to downtown and Bayshore, not to mention MacDill Air Force Base, you'd end up smack in this backyard at 3120 W. Marlin Ave. The convenient, desirable location is just one of the reasons there are many new-construction homes going up in this area.
The home is close enough to Bayshore Boulevard that you could make waterside nightly strolls part of your routine. The neighborhood puts you just minutes from Tampa International Airport, and you could easily hop on the Gandy Bridge and be over in St. Pete in a flash. Nearby parks, like Ballast Point, make this area attractive for family living.
Let's Tour the Inside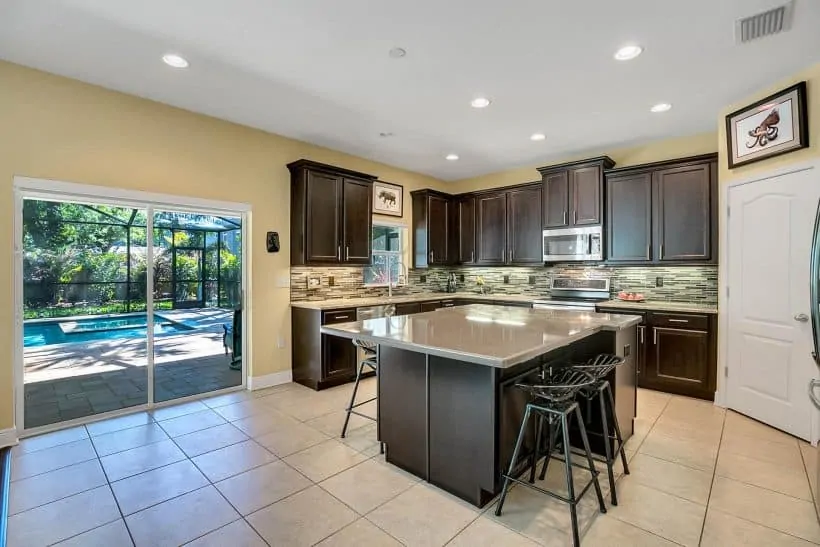 Everyone wants a big kitchen, and this home delivers. The Wellborn hardwood 42-inch cabinets are adorned with crown molding, and under-cabinet lighting makes things easy on the cook (or cooks!). Foodies will also appreciate the GE Profile double convection oven, new in 2017. Throughout the kitchen, a custom tile backsplash complements gleaming granite countertops. The custom-built island sports a Quartz Silestone surface with sparkling ore and – here's the best part – it seats six. Large expanses of glass and a pool view give the space an indoor-outdoor look and feel. A custom slide-in garbage can is cleverly concealed in a drawer hidden in a cabinet, and the sink sports a high-end magnetic faucet.
The master bath features a garden tub with perpendicular, shuttered windows that offer privacy along with twin views of greenery. The master bath features granite surfaces, with quartz in the guest bath. Fixtures are of bronze, and the half bath sports a pedestal sink. There are plantation shutters throughout the home.
Extra, Extra!
This home's upgrades and technological extras are major assets, from the state-of-the-art audio-visual wiring and set-up for computer networking to the living-room and front-room speakers. Recessed lighting is easily controllable with dimmers. Smart recessed lighting in the master bedroom is triggered with a simple voice command. A video doorbell allows you to see and screen guests from your smart phone! Remote-control exterior lights in the backyard are solar.
Two security cameras with computer and monitoring software add to the safety package, along with digital, smart front and side door locks that can be remotely controlled. Low-tech but still enviable items are a laundry/utility sink in the garage and a lawn sprinkler system.
Finally, the home's curb appeal brings to mind the word "majestic" with its clean lines, modern columns and meticulous landscaping.
If you're in the market for a dream house that checks all the boxes, give me a shout!
View all photos and additional information here