Top 7 Tampa Real Estate Insider Predictions: Trends, Home Sales, Mortgage Tax Breaks and More..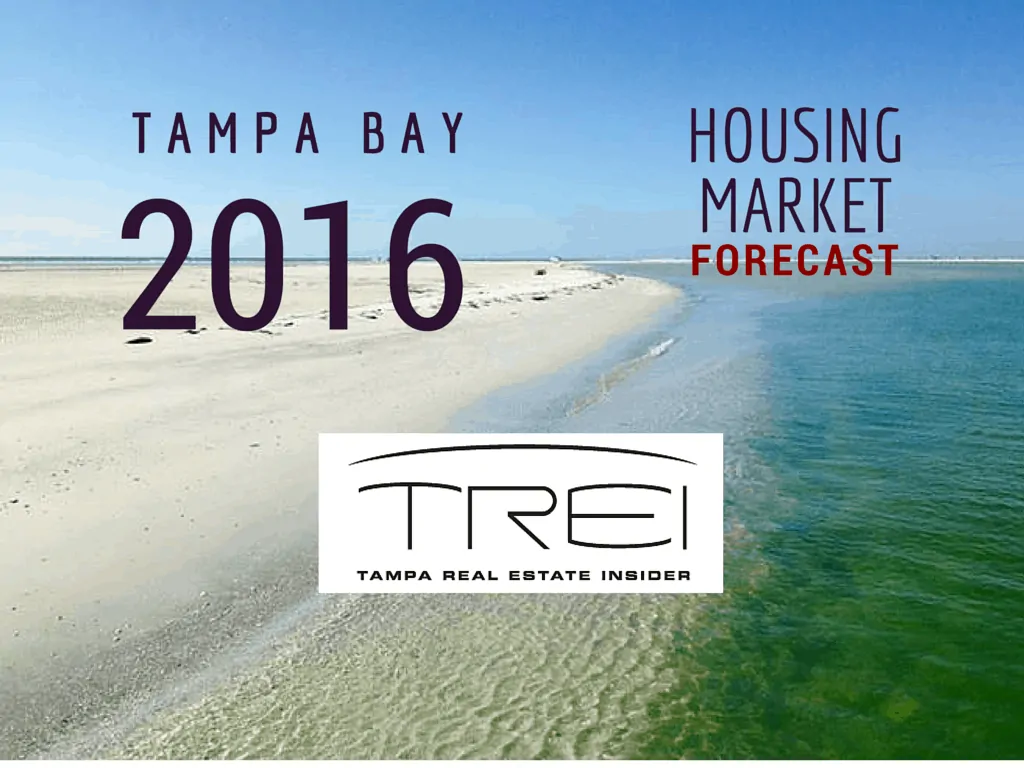 As you're digesting year-end analyses and forward-looking predictions for 2016 about any number of subjects, don't forget that each January I'm willing to go out on a limb regarding Tampa real estate. In that spirit, it's time for my 2016 housing-market predictions! 
Prediction No. 1. For the first several months of 2016, inventory in the Tampa-St. Petersburg area will remain low, and buyers will struggle to find – and have their offers accepted on – just the right home.
Prediction No. 2. Bidding wars will occur in the lower price ranges, especially homes listing at $300,000 or less. We've seen this play out in 2015, and the trend will continue in 2016.
Let's step back a moment from these first two predictions. They spell out a clear message to potential sellers: Sellers are in the driver's seat. This is an excellent time to consider putting your home on the market.
Prediction No. 3. Florida will defend its high placements on everyone's "Top 50" lists. Where do people most want to buy a home, retire, attend college, raise children? Many national magazines and consumer groups canvass the country, creating lists of the most desirable cities and states. Florida scored at the top of many of those lists in 2015. It will continue to make news in 2016. Case in point: Harris Poll survey results announced in December listed Florida as most American's first choice of a place to live (outside their current address). Florida beat out California, Hawaii, Colorado and New York. Most prominently, Tampa made Money's 2015 "5 Best Big Cities" list, classified as "Best in the Southeast." 
Prediction No. 4. Home sales and home prices in Florida will go up. I agree with Dr. John Tuccillo, the chief economist for Florida Realtors, who says some "settling down" of the market will occur in early 2016, but after that, numbers of home sales will increase by as much as 10 percent. Home prices? They'll go up 5 percent. Tuccillo points out that the state's economy is expanding, and the Fed's recent slight interest rate hike is unlikely to create a dent in Florida home sales.
Prediction No. 5. International buyers will continue to be a big factor in Florida home-buying markets. Regular readers of this blog will recall that I wrote about Florida's amazing percentage of international sales several months back. A full quarter of all of America's international sales takes place in the Sunshine State. International buyers are attracted by the same features that Americans are: oceans, climate, airports, attractions and other amenities. This is important, because international buyers spend almost $24 billion snapping up homes in the United States, and Florida takes in a large share of that money, according to the latest data available.
Prediction No. 6. Baby boomers declining to downsize could contribute to sluggish inventory growth in Tampa and St. Pete. According to Freddie Mac's chief economist, baby boomers are "clogging up the whole chain of home sales." They're sitting tight in the family home. The baby boomer demographic is vital to consider, because people ages 55 and older control more than two-thirds of home equity, national consumer surveys show. Take note, potential sellers: Like predictions No. 1 and 2 above, this trend could make it attractive for you to consider selling now while prices are high and buyers are competing with each other to acquire the property of their dreams.
Prediction No. 7. Conventional financing may be a buyer's best choice. Unlike FHA financing, which requires mortgage insurance to be carried for the life of the loan, borrowers who go the conventional route can drop that extra payment when they've achieved 20 percent equity. 
Some background: Just within the past two weeks, the subject of mortgage insurance made news. President Obama signed legislation that makes mortgage insurance premiums paid in 2015 and 2016 tax deductible. Bankers and Realtors had been uncertain whether this tax break would be extended for consumers.
This financial incentive can be a boost to buyers who might otherwise be sitting on the fence about home ownership. The particulars: Buyers who earn $100,000 or less can deduct 100 percent of the amount paid. The tax break diminishes slightly for each additional $10,000 in gross adjusted income.
As always, if you're ready to see what rising home prices and increasing home sales could do for your pocketbook, contact me here!