What is hard money and how do you find a lender?
Hard money is an equity based real estate loan that should only be used short term or when you or the property cannot qualify for Conventional, Jumbo, VA or FHA financing.  For instance, if the homeowner has filed bankruptcy, went through a short sale or foreclosure.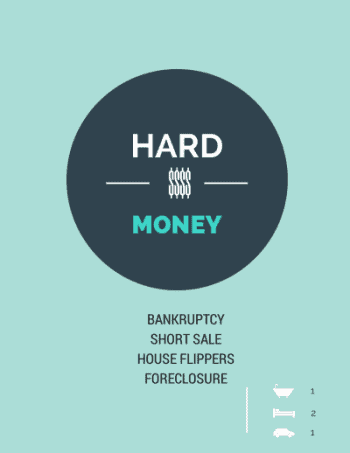 The good news is that many folks that have open foreclosures or current short sales in Tampa Bay can still purchase and finance a home by making a large down payment, usually around 25% to 40%. These loans come with higher fixed rates, five to 30 year terms and no pre-payment penalties for owner occupants.
By making on time payments for one to three years you can refinance into a permanent low fixed rate traditional mortgage.
If you've gone through a short sale or foreclosure, this is a great way to take advantage of today's real estate opportunities and become a homeowner again without having to wait the three to seven year periods FHA and Conventional lenders may require.  FHA lenders do have a one year exception with a program called "The Back to Work Loan."
Self-employed buyers often use this type of mortgage when their tax returns will not allow them to qualify for traditional financing. Bank statements can be used to underwrite the income.
Investors use hard money to purchase properties where a quick closing is required and they only plan to hold for a short period of time.
Owners of free and clear real estate often use hard money to borrow small loan amounts since the rates may be cheaper than credit cards and the bank may not approve a small loan or home equity line of credit (HELOC).
Whether you are an investor, homeowner, or self-employed a Hard Money loan may be the best option to obtain financing if you fall into any of these categories.
If you would like to learn more about hard money lending please visit http://www.c-mortgage.com/hard-money
This article was written for TheTampaRealEstateInsider.com by Sonny Collova webmaster and marketing manager at C & C Financial Services Inc located at 4127 W Cypress St, Tampa, FL 33607. 813-874-5800